Natural Beauty Is Best Experienced Up Close
Simple, elegant and redolent of the nature from the valley. No request is too great and no detail too small at AVATARA. We are also here to assist you before your trip begins.
Open Doors To Discovery In Exceptional Location
On the first few days after arrival, guests' strongest impression of the Himalayan kingdom is usually of the drama and majesty of its mountain landscape, but the longer they stay, the more profound is their realization that the magic of Uttarakhand runs deeper than its glacial valleys and plummeting slopes.
Rooms – Avatara By Bhagirathi Resort
Being an exquisite blend of sheer luxury and contemporary sophistication, there is no doubt on the fact that Avatara By Bhagirathi Resort catches every visitor's eye within a click. This opulent landmark fulfills all the expectations of those who seek luxury at their best.
The USP of this resort is its luxurious well appointed rooms including Deluxe rooms, Executive rooms and Royal Suites. The kind of ambience, recreation, exotic food and deluxe accommodation, this luxury creation offers you are extraordinarily unique experience.
The resort emphasise to make each moment ever so memorable. Avatara By Bhagirathi Resort epitomizes the finest in hospitality. We offer unparalleled warmth and service to our guests a stay that comes second only to the comfort of their home. Aesthetically designed with modern furnishings and minimalistic interiors, it provides the ultimate convenience and luxury to make your stay ever so memorable.
So, next time whenever you visit Dehradun, stay at Avatara By Bhagirathi Resort is a must.
Brightly lit & Comfortably furnished well-appointed rooms including deluxe rooms, executive rooms & royal suites in the Doon Valley View to make your stay pleasant, cozy and comfortable.
Being one of the best resort in dehradun, Avatara By Bhagirathi, with its plethora of impeccable facilities and spectacular services make the stay of the guests highly memorable and pleasing. Whether you are on holiday retreat or on a business trip, this beautiful landmark is committed to ensure that each requirement of yours can easily be fulfilled in the least time frame.
With its luxuriously opulent, this magical creation makes your stay highly enjoyable. Moreover, by offering you lucrative tariffs, this creation provides you with the excellent accommodation services in reasonable price.
The enchanting ambience, the exquisite selection of furnishings and personalized services are a treat that most travellers will cherish for a lifetime.
Stay So Memorable with Avatara By Bhagirathi Resort.
Explore The Rooms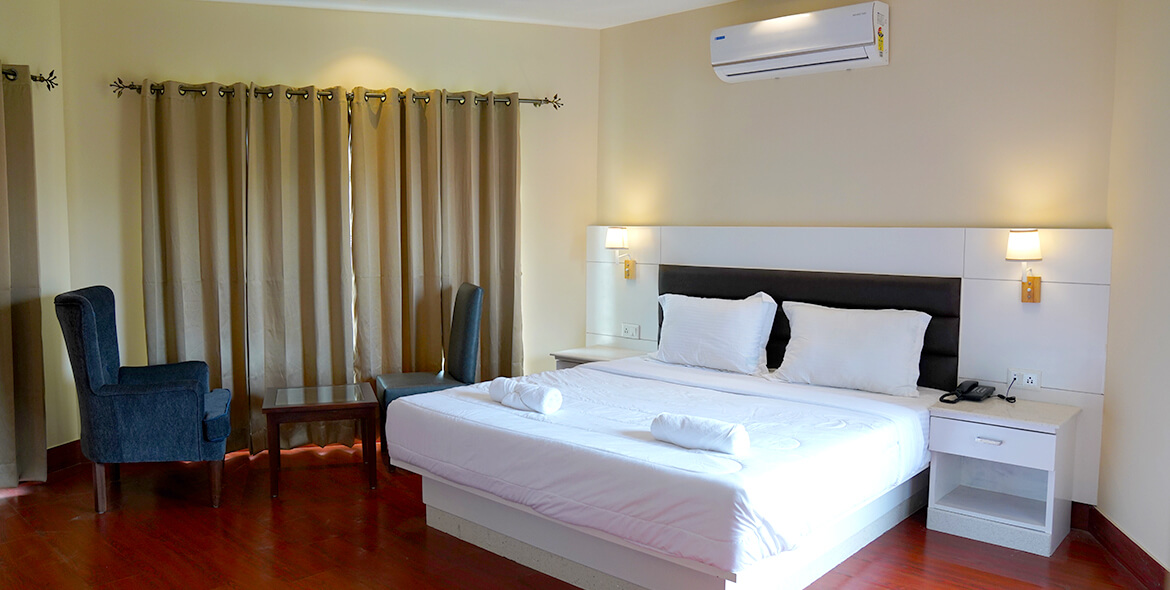 THE ROYAL SUIT
Positioned to ensure utmost privacy, overlook a picturesque beautiful landscape experience nature at its best with Avatara. With great planning comes a beautiful suit each part of the rooms has a hint of traditional and contemporary ethnicity presents in design.
CLASSIC DELIGHT
For a getaway that is both spacious as well as comfortably cozy, we offer the classic delight room. The room reflects the perfect harmony of natural elements and architectural genius. Designed to accommodate the nature around and make it a part of the AVATARA experience. The cosy suite, separated from the garden by a verandah, is your personal bit of heaven on earth. During the monsoon, watching the rains can be a magical experience here.
DELUXE DELIGHT
Experience Serenity & Comfort. This spacious living room is perfect to be enjoyed with your loved ones. These suites are ideal for a family and are equipped with a comfortable king-sized bed. Elegantly furnished, with spacious sit outs designed in a contemporary style these rooms will ensure your stay is marked by comfort and ease.
EXECUTIVE APARTMENT
Exquisite independent cottage ideal for couples and families seeking a little quiet with with  the chatter of the birds for company. Complementing the romance of the location, enhancing the senses, the executive apartment is a special and intimate space.